At Trimes.org, we are really excited about this new race. Why? Because it's putting triathlon forward. Urban triathlon is the best way to sell it to a new audience. We wanted to know more about it so we had a little discussion with the man behind that project, Jeff Chong. 
To be honest, the announcement of the Toronto triathlon festival was a real surprise since an request earlier this year with the World Triathlon Corporation has been rejected by the public works and infrastructure committee (who said that the inconvenience to motorists outweighs the benefit of the event), so how did you finally convince them?
We were able to convey that there were many benefits that would accrue to the City of Toronto as a result of the Toronto Triathlon Festival. The economic development and charitable fundraising opportunities are enormous, especially once the event becomes a seasoned event. If you look at the experience of races in other urban locations, you get a glimpse of where the Toronto Triathlon Festival can potentially grow to one day.
We also were able to convey that similar races are hosted in world class locations such as New York, Washington, Tokyo and Melbourne, among many others. We believe that this event will allow Toronto to stand proudly amongst this distinguished list of world class host cities.
It's a little ironic for Toronto because his mayor Tom Ford don't seems to like cyclist (closuure of cycling path) but his town have two majors marathons and one triathlon causing some closing roads. Are we judging him to quickly?
I can't comment on the likes and dislikes of Mayor Rob Ford.
Can you tell us who is behind the project?
We are proud to have an association with one of Canada's most recognizable summer Olympians, Simon Whitfield. In addition, to have Triathlon Canada and the International Triathlon Union, partnering with us to make the Toronto Triathlon Festival a reality, stands us in good stead to create an enduring race weekend.
With Simon and Triathlon Canada on board, we can create a truly unique Canadian experience that takes advantage of the high profile canvas that the city of Toronto offers. We believe this will create a lasting legacy for the sport of triathlon.
Can you tell us how the project started? I guess a lot of people were telling you that you will never make it.
We have been working on making this race a reality for well over three years. While we have had ups and downs during this process, as you might expect, we have maintained our commitment to getting it done, as we believed wholeheartedly in what we were doing. As you know, perseverance and drive trumps the negativity of naysayers any day of the week. By staying positive and associating ourselves with stakeholders who could help our cause, we methodically executed a plan that we believed put us in the best position to succeed.
The project started in a simple way, really. We looked at the map of high profile, urban triathlons around the world and said: Why not Toronto?
It's a great exposure of our sport, I guess Triathlon Canada and Triathlon Ontario have been really supporting the project?
We agree with you, the Toronto Triathlon Festival will provide exposure for the sport. We also believe that this focus will get even sharper as we grow the event to its fullest potential.
The New York triathlon has thousands of participants; Washington's, even more. If our race can even begin to approach growth of a similar nature, we'd be ecstatic. But let's remember, New York is in its 12th year; we are just starting out.
The federations have been quite supportive of our efforts. As our main objective is to grow the sport, the Toronto Triathlon Festival's very existence is consistent with what we perceive to be their respective mandates.
Can we expect special treatment from the media for this event? Like TV coverage?
We are creating a professionally run event that all of us – organizers, participants, volunteers, sponsors, among others, alike – will be proud to be associated with.
If the press conference on February 22, 2012, to launch the Toronto Triathlon Festival was any indication, the star power that Simon Whitfield brings with him will attract significant media coverage, especially in an Olympic year. This can only be good for the event's profile overall.
There is a lot of urban triathlon in the world, New-York, Chicago, Paris, London, there is differentiating factor that prompts athletes to get an experience they wouldn't get in other races, but this races are generally quite expensive and it's not the case for Toronto. It's surprising, no?
We can't comment on the pricing structure of other races. However, you are correct, the complexities and costs associated with staging an event in densely populated cities cannot be understated.
The races you referenced are all seasoned and battle-tested events. By contrast, we are just starting out, with 2012 being our inaugural year. As such, we thought it was appropriate to ask athletes to give us a chance and create a pricing grid that was consistent with this reality.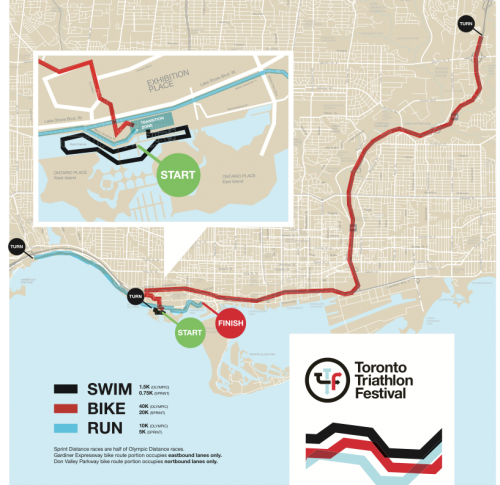 How many athletes are you expecting for the first year?
We hope to attract as many participants as possible. We are defining success by whether or not we create an unparalleled athlete experience. We believe we're off to a good start with our unique race route that takes participants on an unprecedented path along Toronto's harbourfront, utilizing the city's downtown highways, passing skyscrapers and iconic landmarks like the CN Tower, the Air Canada Centre and the Rogers Centre.
We are further defining success by ensuring that for those who do take part in 2012, they not only come back themselves in 2013 but that they also bring a few of their friends along for the ride.
It's still fresh, but how was the reaction?
The reaction to the announcement has been fantastic. Athletes have expressed an interest in racing in Toronto's downtown core and have also provided suggestions on how we can grow our event and how we can make it better.
Simon Whitfield's association with the Toronto Triathlon Festival has also created a significant buzz within triathlon circles, and beyond. In this way, it seems as if a lot of different people are talking about our event. We are hopeful that this interest translates into registrations!
With Simon Whitfield participation, does that means that your are going to have an elite race?
In our inaugural year, the Toronto Triathlon Festival will be an Age Group race only.
 Both races – the Sprint and the Olympic Distance – will be non-drafting for all participants.
The event is going to be the national starting 2013 and an test event for the Pan Am games, does that means it will be an ITU Pan Am cup race next year?
We are excited that Triathlon Canada has granted the National Championships to the Toronto Triathlon Festival in both 2013 and 2014. We are thankful that Triathlon Canada believes in our platform and what we are trying to create.
We don't know whether our race weekend will eventually feature a Test Event for the 2015 Pan Am Games or an ITU Pan Am Cup Race, as these are decisions into which we have no input, nor insight.
To know more about the race > torontotriathlonfestival.com