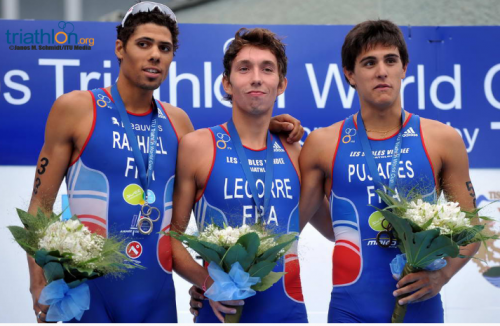 A pretty successful weekend for the new format of sprint semi's/final in Tizzy.  Besides the swim venue being a bit small, it seemed to be all praise for the racing and its excitement.
WOMEN
We saw the Women's race come together, after a slight gap out of the water.  There was no doubt that Gentle (AUS) would take the win with this situation unfolding, but Caelers (NED) gave her a bit of a scare by also running sub 17 off the bike.  Caelers looks to be in good form heading into London with teammate Klamer (NED).
Mazzetti (ITA) outbid McShane (AUS) for bronze and her second consecutive podium at Tizzy.  Disappointment for Nielsen (NZL) after a poor swim had her chasing in the second group.
Podium:  Gentle, Caelers, Mazzetti
Surprise: Ryzhykh (UKR) in 8th
MEN
Wow, looked like a french TTT out there today.  Raphael (FRA) lead things out with 10 others on his tail.  This made for the perfect getaway to distance themselves from the runners 20s+ back.  After the 20k on the bike the lead had swelled to 68s with a well-oiled 26′ and change effort.
Le Corre showed great foot speed to run 15 low after that swim-bike effort while his country men, Raphael and Pujades, followed suit to sweep the podium.  Impressive sub 15′ runs from Verzbicas (USA) and Rouault (FRA) were also quite the spectacle.
With this format and sprint distance becoming more popular with the ITU, expect to see a lot more frenchies showcasing their French Grand Prix upbringings.  No doubt that this result is a direct benefactor of racing GP in their development.  Being exposed to the Brownlees, Gomez, Justus etc. at such a young age is reaping rewards here.  The other nations, will likely have to play a bit of catch up over the coming years if sprint distance becomes the mainstay of the tour.
Podium:  Le Corre, Raphael, Pujades
Surprise: Pocsai (HUN) in 9th w lead group